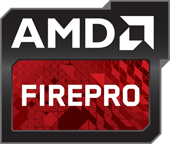 Whether you're a seasoned CAD user, Media and Entertainment creative, or IT Manager looking to virtualize your enterprise, AMD FirePro™ and Radeon™ Pro WX professional graphics solutions provide best-in-class performance for the challenges you face. By signing up to the AMD Professional Graphics newsletter, here's what you can expect:
The latest news in your industry
News on related events, workstation applications and programs
Info on products, special offers, contests, promotions and more
Complete the form below.

AMD respects each site visitor's right to personal privacy. It remains our policy and our commitment that information we collect from site visitors will not be shared with individuals or other companies unrelated to, or that do not perform a business, professional or technical function for AMD.