AMD APUs are found in everything from the leading game consoles to PCs.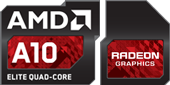 AMD has brought it all together to bring you incredible, new experiences.
Our A-Series APUs (Accelerated Processing Units) combine the performance of multicore processors and the power of AMD Radeon™ Graphics technology on a single chip for a whole new level of immersion and interactivity with your PC.
See photos, movies and games like never before with the phenomenal discrete-level performance of AMD Radeon™ Graphics.
Boot up faster and get back to creating, innovating and discovering with AMD Start Now Technology.2
Web surfing, playing games, streaming videos — do it unplugged for hours with AMD AllDay™ Power.
1 AMD Quick Stream is a technology designed to prioritize video streaming over other activities requiring Internet bandwidth for a smooth, uninterrupted video stream. AMD Quick Stream technology is available on select PCs and requires Windows®8 or Windows 7. Not all features may be supported on all systems - check with your system manufacturer for specific model capabilities and supported technologies.
2 AMD Start Now Technology is a BIOS optimized solution designed to deliver better system responsiveness by minimizing the time to wake up the system from sleep mode, boot the system to desktop and connect to a wireless local area network. Actual times will vary based on operating system, APU, driver, disk drive and memory speed. AMD Start Now technology is available with select AMD APUs when running Windows 7 and Windows 8. Check with your component or system manufacturer or retailer for specific model capabilities.
3 AMD Gesture Control is designed to enable gesture recognition as a tool for controlling certain applications on your PC. Only available on select AMD A-Series APU-based tablets and notebooks. Requires a web camera, and will only operate on PCs running Windows 7 or Windows 8 operating system. Supported Windows desktop apps include: Windows Media Player, Windows Photo Viewer, Microsoft PowerPoint and Adobe Acrobat Reader. Supported Windows Store apps include: Microsoft Photos, Microsoft Music, Microsoft Reader and Kindle. Performance may be degraded in low lighting or intensely-focused lighting environments.
4 AMD Screen Mirror is designed to enable the transmission and display of your PC screen on other compatible networked "mirror" devices. Only available on select AMD A-Series APU-based tablets and notebooks. Compatible Digital Media Renderer (DMR) devices are listed on the Digital Living Network Alliance (DLNA) website (http://www.dlna.org/consumer-home/look-for-dlna/product-search) with the "'Play To' Receiver" feature and must also include H.264 and AAC support. Both PC and DMR device must be connected to a network that will permit content streaming. AMD Screen Mirror supports almost all popular image, audio and video file formats as well as applications showing on your PC screen, but will not mirror protected content. Requires minimum screen resolution of 800x600. Performance may be degraded on networks with limited bandwidth, especially with high definition content.
5 AMD Face Login is designed as a convenient tool to help you log into Windows and many popular websites quickly. It should not be used to protect your computer and personal information from unwanted access. Only available on select AMD A-Series APU-based tablets and notebooks. Requires a webcam, and will only operate on PCs running Windows 7 or Windows 8 operating system and Internet Explorer version 9 or 10. Internet connection is required for website login and use of other online features.
Images and Logos © SEGA. SEGA, the SEGA logo, Sonic & All-Stars Racing Transformed and other related game titles, logos, characters and character names appearing in the game are either registered trademarks or trademarks of SEGA Corporation or have been licensed to SEGA Corporation. All rights reserved.